Recreation and Parks
Department
LATEST TENNIS NEWS
Ocean City Tennis Center Hosted Head Global Graphene™ Tennis Demo Day!
Several dozen tennis players came out on a beautiful spring day recently to try out the new line of Head Graphene™ rackets for 2013. Participants received giveaways and were given the opportunity to submit an essay to Head regarding their demo experience, for a chance to meet World #1 ranked Novak Djokovic or World #2 ranked Maria Sharapova.
Head held tennis demo days throughout the world and U.S. during March and April. The Ocean City Tennis Center was proudly included in this tour. Head representative, Ray Stewart, said, "I'm very pleased with the turn out in Ocean City and we look forward to holding another demo event for the players there this summer." Stay tuned here -- or on our Ocean City Tennis Center Facebook page -- for information on the next "Demo Day!"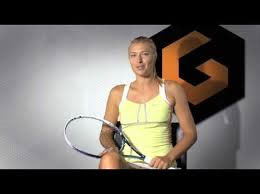 Ocean City Tennis Center's 2013 Season opens May 13
The Ocean City Tennis Center will open on Monday, May 13 for the 2013 season.  The early season programs include:
Spring Pee Wee and Junior Clinics - beginning Thursday evening May 16
Adult Beginner/Intermediate Clinic - beginning Tuesday evening May 14
Women's Double Flights -- beginning Tuesday morning May 14
Early Bird Tennis - beginning Monday May 13
Weekend Warriors - beginning May 18
Ocean City Tennis Center to Offer Cardio Tennis Again
Ocean City Tennis Center (OCTC) will offer two sessions of Cardio Tennis each week this summer, beginning on June 17th and running through August 14.  Cardio Tennis sessions last for one hour and will be held on Monday and Wednesday evenings from 5:30 p.m.  - 6:30 p.m. 
Cardio Tennis is taking the tennis world by storm.  These sessions are a great way to get a high-energy, high-calorie burn workout while working on your tennis game.   Participants run continuous drills throughout the hour and only stop to check for appropriate heart rate levels. This is a more intense aerobic workout to add to your tennis regimen. 
If classes fill on a regular basis, OCTC will add additional morning sessions during the summer.  You must be over 18 to participate (or 16 or over with parental permission).