Recreation and Parks
Department
ENDLESS SUMMER BOOGIE BOARD CAMP
---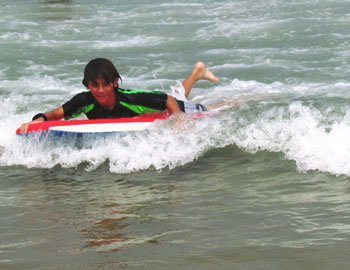 Program # 464510 A, B, C, D
Who

Anyone ages 8 and up

Dates:

Session A: July 7-9, 2014
Session B: July 28-30, 2014
Session C: August 11-13, 2014

Days:

Monday – Wednesday
(Thursday and Friday will be make-up days)

Times:

2:00 p.m. – 4:00 p.m.

Locale:

Endless Summer Surf Shop,
38th Street and Coastal Highway

Cost:

Ocean City Residents: $102.00
Non-Residents: $122.00

A 25% Non-refundable deposit enrolls participant with balance due on first day of camp. Resident Deposit $25.50 Non-Resident Deposit $30.50.
Ride the waves and enjoy the sun in Ocean City's Boogie Board Camp. You'll learn how to ride the line, cutback, attempt 360's, barrel rolls and "drop knee." This camp offers everyone the opportunity to learn the ins and outs of boogie boarding while having fun in a relaxed environment. Participants should be proficient swimmers in the ocean.
ADDITIONAL INFORMATION:
Please dress to be on the beach. All of our camp time will be spent outside, so please remember sunscreen and water. Families are encouraged to stay and watch.

For questions, contact: Ron Strickler
Click Here For Registration Form