Recreation and Parks
Department
DAY CAMPS
---
SCAMPER CAMP
Program # 419010 A, B, C, D, E, F, G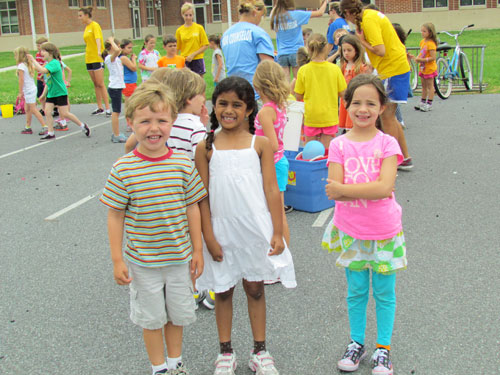 Who:

Boys and Girls, 3.5-5 years

Dates:

June 17 - July 31, 2014 (7 sessions)

Days:

Tuesday, Wednesday, and Thursday

Times:

9:00 a.m. - 1:00 p.m.

Locale:

Ocean City Elementary School (Center Drive, West Ocean City)

Price:

Residents: $60 per session
Non-residents: $80 per session

A $20 per-week, non-refundable deposit enrolls participant, with balance due on first day of camp.

Daily Bus Service: $20 per week (within Town of Ocean City) - Note: Bus service is 1 way only for Scamper - Parents must pick-up at school at 1 p.m.

Program Supervisor:

Chris Clarke
Scamper Camp is a fun and exciting program for the younger camper. Children will participate in various activities and fun field trips. Camp is licensed by the State of Maryland Department of Health and Mental Hygiene and will be offered in weekly sessions. Participants must be fully potty-trained. Camp is limited to 24 participants per session.
---
CAMP HORIZON
Program # 418110 A, B, C, D, E, F, G, H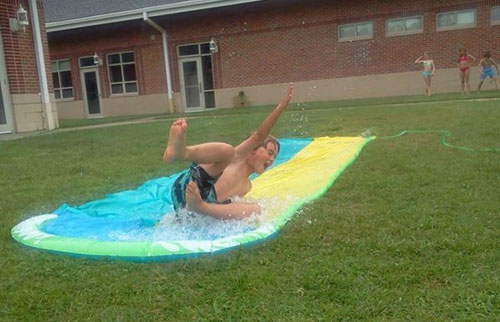 Who:

Boys and Girls ages 5 - 12 years

Dates:

June 16 - August 8, 2014 (8 sessions)

Days:

Monday - Friday

Times:

9:00 a.m. - 4:00 p.m.

Locale:

Ocean City Elementary School (Center Drive, West Ocean City)

Price:

Ocean City Residents: $105 per session
Non-Residents: $125 per session

Session G: Ocean City Residents: $135 per session
Non-Residents: $155 per session

A $20 per-week, non-refundable deposit enrolls participant, with balance due on first day of camp.

Daily Bus Service Fee: $20 per week per camper

Program Supervisor:

Chris Clarke
Camp Horizon, Ocean City's premier summer day camp program provides participants with many creative, recreational and educational opportunities through activities such as arts & crafts, athletics, quiet games, special events and trips. The program meets Monday through Friday throughout the summer, and although Camp Horizon is divided into sessions, each session provides new experiences and fun.
Through participation in Camp Horizon, children will enjoy a supervised, organized, structured, yet flexible program, affording him/her a summer of excitement and adventure. In addition, campers have an unusual opportunity to develop special relationships with staff and peers due to the amount of time spent in an atmosphere of fun and friendliness; it's these relationships that will be remembered in years to come.
Daily bus service is on a limited first come, first served basis. Each week we can accommodate 40 campers on our bus that runs through Ocean City. Only designated bus stops will be utilized. Please refer to the list within the registration packet. The cost for bus service is $20 per week per camper.
REGISTRATION INFORMATION
Registration will be accepted on a first-come/first-served basis beginning February 1st for Ocean City Residents and property owners. Non-residents may register beginning March 1st.
Registration packets are available for pick-up at the Northside Park Recreation Complex, 125th Street and the Bay, Ocean City, 410-250-0125, beginning February 1st or can be downloaded above.
Registration will be accepted through mail or personal drop-off. All forms must be complete in order to be processed and appropriate deposits must accompany registration.
Please note that incomplete submissions will be returned to the sender without being Processed! PLEASE DOUBLE CHECK YOUR REGISTRATION PACKET PRIOR TO SENDING IT.
REGISTRATION PACKETS:
Camp Horizon - Scamper Camp
Registration Requirements
1. Completed Registration Packet.

2. A copy of your child's age-appropriate immunizations (only if child has not started Kindergarten or does not attend a school in Maryland).

3. A copy of your child's birth certificate if he/she is five years of age or younger. (No original documents please).

4. A. Ocean City Residents must provide documentation of residence. Acceptable Documents are as follows:

-Ocean City Tax Bill
-Copy of Lease

5. A $20.00 non-refundable deposit per child per session plus any appropriate bus deposits.
MISCELLANEOUS
Registration in Camp Horizon is limited to 120 children per session, and boasts a well-trained 14 person staff. Confirmation of acceptance into the program will be provided by mail. Please do not expect confirmation until June 1st.
Registration in Scamper Camp is limited to 24 children per session and they must be 3.5 years of age prior to session date.
Parent/guardian information is vital in the event of an emergency; please include all pertinent information in the space provided. Read and sign the waiver statement located at the bottom of the registration form.
For questions, contact: Chris Clarke