Recreation and Parks
Department
SCHOOLHOUSE STAGE TOTS DRAMA CAMP
---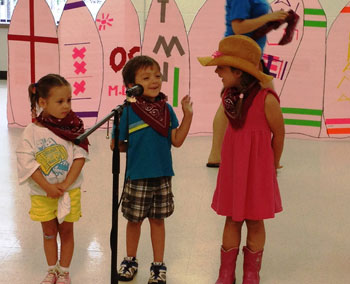 Program # 400400A

Who:

Children 4-6 years of age

Dates:

July 28-31, 2014

Days:

Monday-Thursday

Times:

10:00 a.m.–12:00 noon

Locale:

Northside Park Recreation Complex

Price:

Ocean City Residents: $56.00
Non-Residents: $71.00

A 25% Non-refundable deposit enrolls participant with balance due on first day of camp. Resident Deposit $14.00/Non-Resident Deposit $17.75
Calling all performers! Learn to sing, act, and dance on stage! Schoolhouse Theater Arts, Inc. offers young campers the chance to perform a short original musical production on the last day of camp, complete with songs, lines, and choreography. Campers will also learn drama skills, such as pantomime, stage movement, and voice projection! All directors are Maryland state certified educators, and boast over 60 years combined theatrical experience. Participants must be fully potty-trained.
PROFESSIONAL INSTRUCTION
* Basic skills
* Confidence-building
* Performance advice
CAMP EXTRAS
* Camp T-shirt
* 4" x 6" color photo with Instructor
* Certificate of completion
* Giveaways

For questions, contact: Lynda Brittingham
Click Here For Registration Form
SCHOOLHOUSE ROCKER'S DRAMA CAMP
---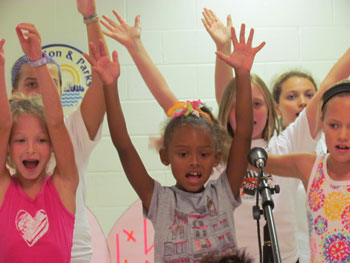 Program # 400400B

Who:

Children entering grades 2-6

Dates:

July 28-31, 2014

Days:

Monday-Thursday

Times:

10:00 a.m.–3:00 p.m.

Locale:

Northside Park Recreation Complex

Price:

Ocean City Residents: $126.00
Non-Residents: $146.00

A 25% Non-refundable deposit enrolls participant with balance due on first day of camp. Resident Deposit $31.50 Non-Resident Deposit $36.50
Do you love to sing, act, or dance? Well, Schoolhouse Theater Arts, Inc. offers a fantastic and fun summer camp experience where students can put on a rockin' Broadway review! Campers will perform a theatrical review with upbeat hits from many Broadway musicals on the last day of camp, in addition to learning lines, choreography, and music. Students will also design and create small props, as well as partake in craft activities. All directors are Maryland state educators and have been involved in theatrics in both professional and teaching capacities. Come on out if you love to perform! Please bring a non-perishable lunch Monday – Wednesday; pizza party on Thursday.
PROFESSIONAL INSTRUCTION
* Basic skills
* Confidence-building
* Performance advice
CAMP EXTRAS
* Camp T-shirt
* 4" x 6" color photo with Instructor
* Certificate of completion
* Giveaways
For questions, contact: Lynda Brittingham
Click Here For Registration Form