Recreation and Parks
Department
GIRLS LACROSSE CAMP
---
Program # 427101 A

Who:

Girls 6 to 16 years of age

Dates:

July 14 - 17, 2014

Days:

Monday - Thursday

Times:

10:00 a.m. – 3:00 p.m.

Locale:

Northside Park Recreation Complex

Cost:

Ocean City Residents: $126.00
Non-Residents: $146.00

A 25% Non-refundable deposit enrolls participant with balance due on first day of camp. Resident Deposit $31.50 Non-Resident Deposit $36.50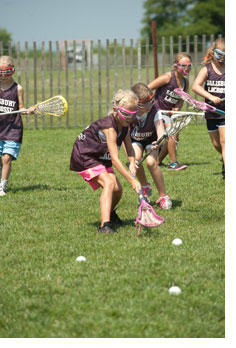 Directed by Salisbury University's Head Women's Lacrosse Coach, Jim Nester, this lacrosse camp for girls' is sure to teach the game and improve on the skills of lacrosse. This four-day camp is designed to suit all abilities basic game instruction, stick skills and strategy will be taught. Scrimmages will give participants a chance for actual game experience.

Camp Director, Jim Nester, is in his 10th year as Salisbury University's Women's Lacrosse coach. Last year his team won the national championship! He has also led them to the Capital Athletic Conference Title and the NCAA Tournament. Coach Nestor was named the Capital Athletic Conference Coach of the Year in 2003, IWLCAs Division II coach of the Year in 1996 and the NCAA Division II Coach of the Year in 2000.
Ocean City's Northside Park is considered the top recreation facility on the Eastern Shore. Well-manicured playing fields and air-conditioned gymnasiums provide exceptional indoor and outdoor play. Locker room facilities and other amenities provide comfort and safety for all participants. Please bring your own equipment, if possible, including a mouth guard. Campers should bring a non-perishable lunch for the first three days.
PROFESSIONAL INSTRUCTION
* Basic skills...passing, shooting, cradling
* Conditioning for quickness
* Strategy
* Competitive Games
* Instructional Videos

CAMP EXTRAS
* Camp Practice Jersey
* 4" x 6" color photo with coach
* Certificate of Completion
* Give-a-ways
* Pizza Party on Thursday
For questions, contact: Lynda Brittingham
Click Here For Registration Form