Recreation and Parks
Department
OCEAN BOWL SKATE CAMP
---
Program # 453110 A, B, C

Who:

Boys and Girls 6 – 17 years of age

Dates:

Session A: June 23 – 26, 2014
Session B: July 14 – 17, 2014
Session C: August 11 – 14, 2014

Days:

Monday - Thursday

Times:

9:00 a.m. - 12:00 p.m.

Locale:

Ocean Bowl Skate Park

Price

Ocean City Residents: $126.00
Non-Residents: $146.00

A 25% Non-refundable deposit enrolls participant with balance due on first day of camp. Resident Deposit $31.50 Non-Resident Deposit $36.50

Registration for this camp is limited so sign up early.

Grab your boards and get ready to CARVE! The Ocean Bowl Skate Camp returns to Ocean City's famous Ocean Bowl Skate Park this summer. This camp is for skaters of all ability levels, so whether you're just beginning or simply wanting to hone your skills, the Ocean Bowl is the place to be.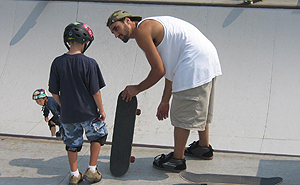 The Ocean Bowl Skate Park, a 17,000 square foot concrete based park, takes advantage of every inch of usable space with transitions allowing flow from one end of this "carveable" park to the other. A pool bowl boasting a top lining of tile with a deep and shallow end, a large vert ramp and a mini ramp, along with the 13,000 square foot innovative open concrete street course with hit walls, hips and small bowl, provides challenges for skaters of all abilities.
Camp participants must wear helmets, kneepads and elbow pads while participating. An additional liability waiver form must be signed by the camper's legal guardian prior to participation in the Skate Camp.
PROFESSIONAL INSTRUCTION
* Skater safety
* Equipment mechanics
* Flat ground and transition techniques
* Dropping in
* Ollie
* Kick-flip
* Grinding
* Speed
* Air on Vert

CAMP EXTRAS
* Camp T-shirt
* 4" x 6" photo with instructor
* Give-a-ways
* Certificate of completion

For questions, contact: Ron Stickler
Click Here For Registration Form