Recreation and Parks
Department

VOLLEYBALL CAMP
---
Program # 444110 A
Who:

Boys and Girls ages 8 to 16 years of age

Dates:

July 28 - 31, 2014

Days:

Monday–Thursday

Times:

4:00 p.m. - 8:30 p.m.

Locale:

Northside Park Recreation Complex

Price:

Ocean City Residents: $126.00
Non-Residents: $146.00

A 25% Non-refundable deposit enrolls participant with balance due on first day of camp. Resident Deposit $31.50 Non-Resident Deposit $36.50

Tim Horsmon, Head Coach at the University of Dayton, will serve as director of OCRP's 2014 Volleyball Camp. Horsmon is a former University of Maryland (UMD) coach. He and his staff, also former UMD coaches and players, will provide a high-level of instruction to the for the fourth summer in a row. Participants will hone their skills, learn new strategies and gain critical game experience, while having fun and creating memories.

Campers should pack a non-perishable dinner Monday - Wednesday.
PROFESSIONAL INSTRUCTION
* Basic skills...serving, passing, setting, blocking
* Conditioning
* Strategy
* Competitive games
CAMP EXTRAS
* Camp T-shirt
* Certificate of Completion
* Pizza Party on Thursday
* 4" x 6" color photo
* Synthetic leather volleyball
For questions, contact: Lynda Brittingham
Click Here For Registration Form
---
BEACH VOLLEYBALL CAMP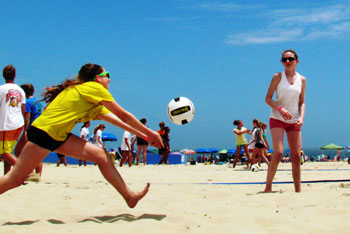 Program # 444111A

Who:

Boys and Girls 10-18 years of age

Dates:

June 30-July 2, 2014

Days:

Monday - Wednesday

Times:

9:00 a.m. – 2:00 p.m.

Locale:

3rd Street Beach Volleyball Courts

Price:

Ocean City Residents: $126.00
Non-Residents: $146.00

A 25% Non-refundable deposit enrolls participant with the balance due the first day of camp. Resident Deposit $31.50 Non-Resident Deposit $36.50
Hey Boys & Girls! Hit the courts this summer and the beach with our Beach Volleyball Camp! This fun and challenging camp will be led by qualified instructors from the Delaware Volleyball Academy and is open to boys & girls of all ability levels. Shade will be provided to get out of the sun for lunch & breaks. Two ocean swim breaks will be included during camp.
CAMP EXTRAS: camp t-shirt, volleyball, 4 x 6 photo with coaches, certificate of completion, giveaways   
For questions, contact: Al "Hondo" Handy
Click Here For Registration Form