Recreation and Parks
Department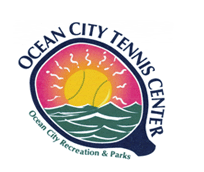 Welcome to the Ocean City Tennis Center
Monday – Friday 7:00 a.m. – 8:00 p.m.
Saturday – Sunday 7:00 a.m. – 6:00 p.m.
Give us a call!

Six Premier Courts, and 3 Lee fast dry clay green courts.

Professional staff on duty from May – September.

One of only 3,000 USTA Tennis Welcome Centers throughout the United States.

Full agenda of tennis activities: Tournaments, Women's & Men's Weekly Leagues, Holiday Mixers, Tennis Outings and more.

Full Instruction Program: Ocean City Tennis Academy, Pee Wee Tennis Camp, Adult Tennis Camps, Private Lessons.

Other amenities offered at Ocean City's Tennis Center: Hitting Wall, on-site free parking, restrooms, tennis lounge, and tennis shop.

Located at 61st Street and The Bay. On the right as you come into Ocean City on Route 90.

Town of Ocean City operates three (3) other tennis sites which host free play, first-come, first-serve courts. These sites include 3rd Street and St. Louis Avenue, 94th Street and Bayside, and Gorman Park on 136th Street and Derrickson Avenue (Bayside).
For more information on Ocean City Tennis Center, contact our friendly and helpful staff at 410-524-8337 or email kcoleman@oceancitymd.gov.