Recreation and Parks
Department
WELCOME MESSAGE
Dear Neighbors,
We are continuing our initiative to enhance and expand our programs and facilities that encourage physical activity and promote healthy lifestyles while having fun. This initiative is being promoted using the slogan "Get Active. Be Healthy. Have Fun!" This will position us as your local source for opportunities to participate in physically stimulating activities that improve fitness and wellbeing while promoting healthy lifestyle choices. We also believe you can have fun and enjoy yourself while you are active.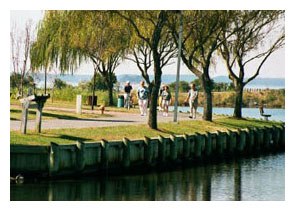 We all know that physical activity and exercise are good for us, but we don't often follow through to incorporate it into our daily lives. We want to help you become more active by offering more choices for activities and facilities that will improve your fitness and that of your family as well. Our new Outdoor Exercise and Fitness area at Northside Park is now available for your use. Read more about it in the Spotlight section of this issue of Splash!
We are also focused on helping you make healthy lifestyle choices. By enrolling in our programs or using our many fine parks and facilities, you are demonstrating your commitment to a healthier life. We plan to offer simple lessons and common sense advice on how to practice a healthier lifestyle. We are partnering with other agencies in our community to offer you more healthy choices.
Finally, we believe that staying active and being more health conscious can be sustained over time through fun. We want to be sure to build fun and enjoyment into all of the programs, services and facilities we offer. That's why we have made this position our call to action: "Get Active. Be Healthy. Have Fun!"
We are pleased to welcome two new employees to the Recreation and Parks team. Frank Miller is our new Special Events Superintendent and Angie Manos is our new Marketing and Advertising Coordinator. We are pleased to have Frank and Angie join our team in service to you.
Sincerely,


Susan Petito
Director